This article contains our technical opinions and is for general information purposes only. In This article, the term "TECK" refers to cables with 'TECK90 style' constructions.
TECK Cable Overview
In Canada, our Industrial projects are wired almost exclusively with TECK cables. They have become the standard industrial product for electrical wiring of medium voltage power to low voltage control, instrumentation, and even some communication cabling. This article will delve into how this came about and why it is such a great cable construction.
TECK cables were developed by Teck, a Canadian mining company, in the 1960's as an engineered cable solution for the harsh environments of Canadian mines.  The resulting product was flexible, easy to install, withstood cold climates, had great mechanical and environmental protection, and could be installed in a very wide range of applications. TECK eliminated the need to run conduits or ducts, saving a lot of contractor labour costs.  Its superiority to other wiring methods caused TECK usage to thrive and is currently the dominant cable for not only mines, but most Canadian Industrial applications.  
While there is only one true CSA standard for TECK, CSA C22.2 #131 Type TECK90 Cable, the word TECK has become generalized to refer to any cable with a TECK90 style construction. Many people refer to TECK in reference to armoured medium voltage cables (HVTECK), instrumentation & control cables (ACIC), and communication cables (AIA), all of which are not built to the TECK90 CSA standard but have similar constructions. 
Cables built to the CSA C22.2 #131 Type TECK90 Cable standard have a maximum voltage rating of 5000V and are limited to an operating temperature of 90°C.
TECK Cable Construction
Typically, TECK constructions consist of integral power conductors and a bare copper bonding conductor protected by an overall combination of inner jacket, metallic interlocked armour, and outer jacket. The conductors are XLPE insulated copper with PVC inner and outer jackets providing environmental barriers, and interlocked armour providing the mechanical protection.  The PVC inner jacket provides an excellent water / chemical barrier.  
The outer jacket can often be damaged during or after installation, but it is very difficult to damage the inner jacket enough to allow fluid penetration to the conductors.  PVC is used as it can be flame rated while having decent water and chemical resistance.  The interlocked armour provides sufficient mechanical protection while maintaining flexibility. Compared to traditional conduit and wire, TECK has enough flexibility to be installed in long continuous lengths without the need for pull boxes or splices even when installed in low temperatures. Other armour cable types such as Continuous Corrugated Welded (CCW) can be very stiff and more labour intensive to install.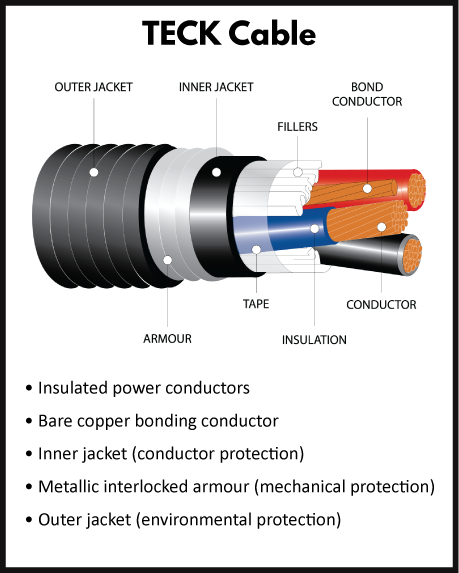 Applications for TECK90
TECK became the "Swiss Army Knife" of electrical cables as it is CE Code approved for installation in almost all locations. Below is a table showing a wide range of acceptable applications for TECK90 based upon the 'conditions of use' found in CE Code Table 19.  Further installation requirements for each application can be found in the CE Code, with the main sections of interest being Section 12 for wiring methods and Section 18 for hazardous location requirements.
Allowable Applications for TECK90:
Dry Locations
Wet Locations
Services, Feeders, Branch Circuits, Control & Instrumentation
Cable Trays
Direct Burial
Concrete Encased
Outdoor Overhead
Raceways 
Exposed
Hazardous Locations (if HL marked)
TECK - CSA & UL
The U.S. equivalent to the Canadian CSA approved TECK90 cable is UL approved Metal Clad (MC) cable with interlocked armour. Unlike its Canadian TECK counterpart MC cable is typically manufactured with an outer jacket only (no inner jacket for environmental protection).
In Canada TECK with the 'HL marking' on the outer jacket is approved in the CE Code for installation in all hazardous locations. In the U.S the NEC has different requirements for hazardous locations and asks for either MC or the more rigid CCW armoured MC-HL cable depending on hazardous locations Class/Division. 
Without Canada's development of TECK, we might still be bending a lot of conduits in our Industrial jobsites.
Go to our "Texcan TECK Cable Catalogue", for full product details and specifications.
Texcan stocks a full line of armoured medium-voltage cables, low-voltage cables, instrumentation cables, communication cables,  fiber optic cables and more. Find our complete product line through our website.