ACWU, which stands for Aluminum Conductor Wet Underground, is an armoured cable used for exposed and concealed wiring in wet or dry locations. It is typically constructed with 1 to 4 conductors, wrapped in an aluminum interlocking armour exterior.
These cables can be used in environments exposed to outdoor weather conditions, direct buried, or in hazardous industrial environments. ACWU can also be installed in ventilated/non-ventilated cable trays.
ACWU is widely used for service entrance installations in commercial and residential installations.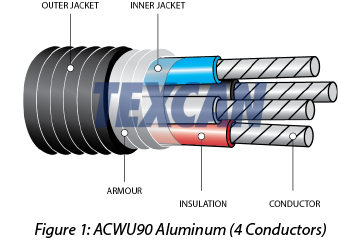 What's the difference?
We are often asked, "What's the difference between ACWU and Teck cable?" Teck cable is typically constructed with copper conductors, cross-linked polyethylene insulation, an inner PVC jacket, interlocking aluminum armour, and an overall PVC jacket. ACWU is typically constructed with aluminum conductors, cross-linked polyethylene insulation, interlocking aluminum armour, and an overall PVC jacket. ACWU90 is made to the CSA C22.2 No. 51 standard and Teck90 is made to the CSA C22.2 No. 131 standard, where both cable types have a maximum temperature rating of 90 degrees Celsius. 
ACWU has a cost advantage due to its aluminum construction, but it has a slightly lower current carrying capacity over copper Teck cable. Based on the ampacities listed in CEC Tables 1, 2, 3, and 4, aluminum conductors will, on average, need to be 2 AWG sizes larger than copper conductors in order to provide equivalent ampacity. ACWU with aluminum conductors is approximately half the weight of the equivalent ampacity copper conductor Teck cables. ACWU is typically stocked in 600V, while Teck is typically stocked in 600V, 1kV, or higher.
ACWU is often found in non-industrial environments and is commonly found in hospitals, commercial buildings, as well as rural locations for standard 600V power delivery. ACWU provides a cost-affordable option wherever you may need a durable armoured cable that can withstand temperature changes, inclement weather, or wet locations.
Texcan stocks a full range of single and multiconductor ACWU for fast, convenient delivery. We are one of Canada's largest stocking distributors of ACWU. Our facilities stock and can handle long lengths should bulk orders be requested. Call us today to learn more or to add them to your quote.
View our Building Wire Catalogue, Building Wire Flyer, and our Aluminum Conductor Products Flyer for more information.
Featured Supplier
As one of the largest cable manufacturers of ACWU and other cables globally, Prysmian Group is a global leader in the cable systems industry. Prysmian Group, which consists of Prysmian, Draka, and General Cable, supplies customers with an innovative and wide-ranging product portfolio for a broad range of applications.
With over 140 years of experience, Prysmian Group has a long history of developing products to meet customer needs. Their world-class manufacturing processes are reflected in the longevity and performance of their market-leading products. ACWU and our other featured Prysmian Group products can be found on Prysmian Group's supplier webpage.