This article contains my technical opinions and is for general information purposes only. Product references are generic as different brands and products may have different features.
SHD-GC Cable Introduction
SHD-GC cables are hard usage flexible cables used in the mining industry to provide reliable and safe power distribution to mobile equipment. Advanced cable technology is incorporated so these cables can withstand the harsh conditions prevalent in mining operations.
Examples of the extreme stresses these cables may be subjected to are: 
• Vehicle run over
• Flexing under tension at low or high temperatures
• Immersion in water with varying chemical composition
• Operation under tension
• Repeatedly dragged over rough surfaces.
This newsletter will provide an overview of SHD-GC cables, highlighting their key features, benefits, and applications.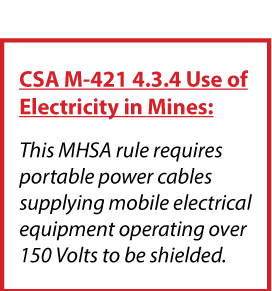 SHD-GC Cable Features
SHD-GC cables are MSHA (Mine Safety & Health Administration) listed and CSA versions are built to CSA C22.2 #96 for Portable Power Cables. Also referred to as Trailing Cables, they are designed to be rugged, durable, and mobile. They come in voltage ratings ranging from 2KV to 35KV, have shielded high strand count tinned copper conductors with EPR insulation, a ground check conductor, two bare grounding conductors, and an overall CPE or TPU jacket.
SHD-GC cables are part of a family of mining cables, typically used to power mobile equipment or temporary applications. While they are standard cables for surface and underground mining operations where shielded cables are required, there are many other applications outside the mining industry.
Flexibility is a key design feature. High conductor strand counts are combined with engineered strand lay design, allowing the cable to be repeatedly tensioned. Higher quality SHD-GC cables can better withstand being dragged at higher tensions over rougher terrain.  Regular power cables should only be under tension once during the initial installation process before being permanently fixed in place. Strand lay design and manufacturing techniques are key to increased cable longevity.
Recent CSA standard changes have allowed some manufacturers to get their cables listed per CSA C22.2 #230 as a Tray Cable with an FT4 flame rating. With this listing these "mining" cables are now allowed by CE Code for use in permanent installations, greatly expanding their allowable applications. Without this listing the cables are CE Code limited to temporary or flexible installations and are not to be permanently secured to any structural member.
Applications for CSA TC Listed SHD-GC Cable
• Temporary installations 
• Mobile equipment 
• Cable tray installations
• Fixed to permanent structures
• Direct burial
• Continual shallow water submersion
• Flexible and reeling applications
• Ship to shore power
Prior to these cables having CSA TC listings, a common application would be to run armoured cables in a cable tray to a junction box, transitioning to an SHD-GC cable run on the surface to portable pumps. With a CSA TC listing, a single SHD-GC cable can be run the entire length, both on the cable tray and ground sections, without requiring two different cable products and a cable splice.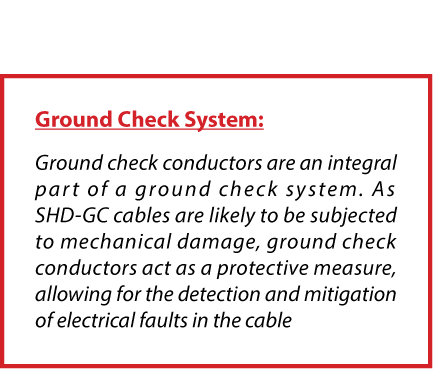 Construction Options:
Jacket Material –  The most common jacket material is CPE, known for its mechanical and chemical durability. In the harshest conditions, TPU is another option.
Jacket Grade – There are two SHD-GC cable grades - Mining and Industrial. Mining grade versions are mould cured and significantly tougher than the CV cured Industrial grade versions. Mining grade cables often come with double jackets for enhanced mechanical protection.
CSA TC listing – A Tray Cable listing allows the cable to be installed in permanent locations expanding possible applications. Not all products have this listing.
High Visibility options – Jackets can be made with reflective stripes for enhanced visibility. This reduces the risk of cable runover damage. Alternatively, the latest technology uses LED lighting installed under a clear jacket. 
Coloured Jackets – Custom coloured jackets can allow for safer circuit identification.
RFID chips – RFID chips can be embedded in the length of the cable, enabling real time access to cable information.
Integral fill – Integral fill allows the cable to be pulled harder, enabling higher working tensions, and greatly improves cable longevity in reeling applications.
Couplers – Some manufacturers offer factory-installed couplers, reducing the need for specialized electricians on the jobsite.
Fiber optics – Fiber optic cables may be included inside SHD- GC cables.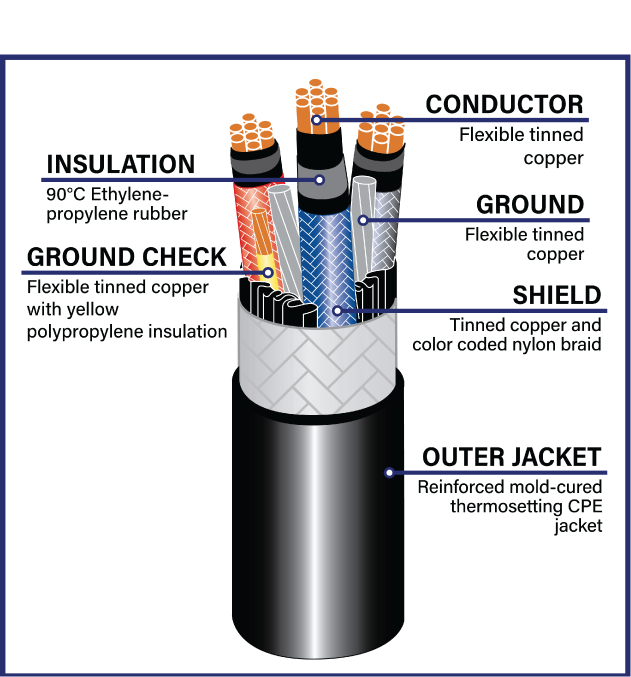 Conclusion
SHD-GC cables come in a wide range of constructions and prices. However, reduced downtime and cable replacement costs may often outweigh the importance of upfront cost savings. Texcan can assist you in selecting the optimal SHD-GC cable design to keep your equipment running and minimize overall cost.